Conor Keane Hyun O'Brien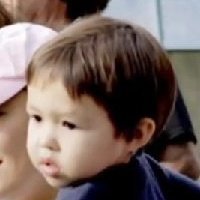 **UPDATE 9/15/14**
1. I am still awaiting the return of a jersey and hat to be signed by a player/players on the Seattle Seahawks, which has been my favorite team since childhood.
The jersey and cap will be auctioned to raise funds for my travel to Korea.
Stay tuned!
2. I have had 60k air miles pledged to replace the ticket stolen from me by United Airlines. This is a bit tenuous. Keep your fingers crossed this happens!
3. #BoycottUnited
International Parental Abduction of Conor
The purpose of this page is to raise funds to go to Korea, find my son, and repatriate him, if possible.
What is International Parental Abduction? First of all, it is Severe Child Abuse:
http://www.healthyplace.com/abuse/articles/impact-of-parental-child-abduction/
"According to Huntington, "in child stealing the children are used as both objects and weapons in the struggle between the parents which leads to the brutalization of the children psychologically, specifically destroying their sense of trust in the world around them." Because of the events surrounding parental child abduction, Huntington emphasizes that "we must reconceptualize child stealing as child abuse of the most flagrant sort" (Huntington, 1982, p. 7)."
International Parental Abduction Is a Federal Crime:
http://stopchildabduction.org/In_t_Kidnapping_Crimes.html
"Sec. 1204. International parental kidnapping
"(a) Whoever removes a child from the United States or
retains a child (who has been in the United States) outside the
United States with intent to obstruct the lawful exercise of
parental rights shall be fined under this title or imprisoned not
more than 3 years, or both."
International PArental Abduction is an international crime:
https://gspp.berkeley.edu/assets/uploads/page/Washington_State_Bench_Guide_dvAndTheHagueConvention.pdf

"The Hague Convention on Civil Aspects of International
Child Abduction
1 provides a uniform law signatories may adopt to compel the
return of a child wrongfully removed from his or her habitual residence."
Why raising funds now?
The real problem is United Airlines. I had a $1200 credit with them. When I called in March to set my reservations to go to Korea June 27, they told me it was no longer valid. I've been fighting them ever since. They are the ONLY reason I am doing this now and am not already in Korea. (Details on this further down.)
Reality: I need $100,000 or more.
Reality Check: Not gonna happen. Just need to get over there, and be there long enough to get legal action launched. If it looks like I need to stay in Korea, I need to be able to survive long enough to find a job and the 6 - 8 weeks getting documents takes *to apply for a visa* for said job.
I can probably make all that work at $2500. If not, well, just enough for the ticket will have to do, about $900 - $1200 RT.
About Conor
Conor was born in Seoul, Korea, on December 19, 2007. He was, and one can only hope after the trauma of parental abduction, still is a preternaturally calm, intelligent boy. Watching him paying such close attention to things, especially his peers, was awesome. He listened well, learned quickly, and never threw tantrums of any kind. I'd like to think it was the parenting, but I think Conor was just born old.
He understood the melting Arctic, drawing this, unprompted, at just 2.5 years old:
One of the great tragedies of his abduction is his age. He was abducted at 3 years old and children's primary wiring, personality and development all happens in those first five years.
He will never be the kid he might have been, and I can only pray that none of his gifts have been diminished.
* Aiding and Abetting Parental Abduction After the FactReplacing a Stolen Ticket: #BoycottUnited
The first step is to simply get there. I would have gone to Korea on June 27th if not for the theft of my flight... by United Airlines. I paid United Airlines over $1200 for a ticket. I extended the ticket April 15, 2013 for up to one year when the fraud mentioned above claimed he could help me get to Korea, find my son and bring him home within a few weeks or months. He asked me to cancel my ticket so we could do some research and get people in Korea to help. All of that was was a lie, of course. In the meantime, my mother had a recurrence of cancer and an uncle passed away, delaying my trip to Korea further.
Finally, I called United to make a reservation March 15, 2014. The agent confirmed my credit with United and helped me find flights on the 26th or 27th of June. I needed to check some potential scheduling issues, calling back one hour later. This time I was told I had no credit with United, and never had!
I called back a month or so later to fight for my ticket, and Conor, this time claimed it had expired on March 8. I had extended less than a year before. There was no reason for this to expire on that date.
Three calls to United, three different stories. 1. Yes, you have a credit and can make a reservation, 2. you never had a reservation, 3. your reservation expired 7 days before you called.
I also followed their procedures for resolving issues and never heard back from them.
This is theft and fraud. I have started a #BoycottUnited campaign. Please use this hashtag and post it all over. More importantly, let me know of any flights you specifically *don't* take on United so I can let them know how much they are losing. I have already taken three flights (paid by clients) to and from Washington on other airlines worth nearly $1,000.
* Background Story - International Parental Abduction
Conor was abducted to Korea by his mother, Hyun Sook Sim, a Korean National, in February 2011. He was taken to Korea on false pretenses of a vacation and/or preparing for the family to move there. She took all our savings and several thousand dollars in gold jewelry with the idea that if our permaculture course did not do well she would send a plane ticket and send me the documents needed to obtain a Family visa, F-2 in Korea, so I could join them.
However, five days after they arrived in Korea all communication was stopped. The next phone call simply never came. There has literally been zero contact from her or my son. Silence. Cold, soul-scorching silence despite numerous calls by me, e-mails, etc.
I took what little money I did have from selling a gold necklace and went to Korea in early March 2011. The US Embassy could do nothing and were anything but enthusiastic. Worse, I fell ill with kidney stones a day after arriving and could only search for one of the four days I was in Korea. I did visit her family and received nothing from them but silence and the false claim they knew nothing.
It is important to understand there was no plan to divorce or separate prior to this. This was a premeditated act intended, so far as I can determine, to allow her to pursue a relationship with a former classmate, the same one who was hosting the website for the Permaculture and Resilience Initiative - Detroit.
https://www.facebook.com/pages/PRI-De-Permaculture-and-Resilience-Initiative-Detroit/183237338284
There has never been an e-mail, a call, contact from her, an attorney or government agency. She simply vanished with Conor.
Why? She knew I would never agree to be separated from my son, so hiding away with him was apparently what she thought was the best choice since she had secretly decided to break up our marriage.
Parental kidnapping is illegal in the United States, and taking a child across international borders is a felony. It is also illegal regarding the Geneva Convention. Unfortunately, South Korea only joined the Geneva Convention on Parental Abduction in March 2013. It is not retroactive, so I still have no legal recourse in Korea. Or here. I am told because I knew they were taking a trip to Korea it is not kidnapping. That is a ridiculous argument since she obviously planned this and the U.S. law specifically states intentionally separating parent and child is illegal.
I have not had the tens of thousands of dollars it would require to hire lawyers ($30k retainer in Korea, e.g.) and wage a legal battle.
Unlike his mother, I will never keep Conor from her, though she obviously does not deserve any consideration given she tore asunder a loving parent-child relationship. I would obviously never trust her with his safety and security again, but I will not prevent them from having a full relationship.
I am not a persuasive man. I can only tell you like it is and hope your heart responds. Here is what I hope funds so generously given here will achieve.
1. Returning with Conor will require a plane ticket for him. That will almost certainly be last-minute and somewhat expensive unless I can use standby. I assume $1500 or more for this.
2. There are organizations that can assist with this sort of search, but the least expensive thus far is still $15,000. I am hoping the legal aid program in Korea will assist.
3. Lawyers in Korea make lawyers in the US look cheap.
As you can see, $20,000 might be a smallish number for this reunion. However, please understand I will do everything I can regardless of how small or how large the funds I have. Finding Conor should not be the primary challenge. The police in Korea have an obligation to assist. The tricks will be regaining custody and preventing his mother from disappearing with him again.
I will find my son. We will be reunited. Your support will achieve one thing principally: it will make the process as simple and least traumatic as possible for Conor. He has already been abused by his mother and deserves an orderly transition to having a full relationship with his father again. And, depending on her continued level of selfishness and disregard for her son and for me, a full relationship with his mother, too.
If all I can do is get to Korea and stay long enough to find my son and regain at least partial custody, that will be more than I can hope for after 3.5 years apart. A loving parent understands the terrible pain of separation from a child. When it is forced, so completely unnecessary, it is all the more so. It has been hell. Literally. Few things could possibly be worse.
Please, for Conor, help me find him and restore the vital relationships a child needs to be the best person they can be.
Thank you to those of you who have supported PRI-De in the past. Check out the Rewards and claim yours!
Peace,
Killian O'Brien
9/5/2014